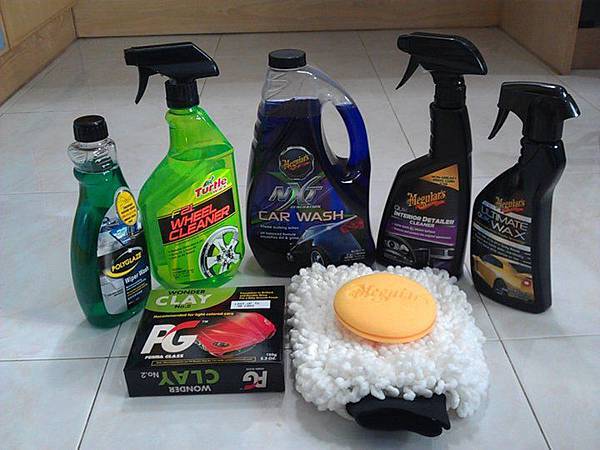 Mine Meguair's Product review:

Really good result, good water beading, easy maintenance.
On 15.07.2011
Bought Meguair's Products
On 16.07.2011
Using Meguair's 5-step Paint Care Cycle (Without Step 3 - Polishing)
1. Washing - With Meguair's NXT Generation Car Wash
2. Cleaning - Perma Glass Wonder Clay No.2 + NXT Generation Car Wash as lubricant*
3. Polishing - Skip this step because my car is new car
4. Protecting - Meguair's Ultimate Quik Wax
5. Maintaining - Meguair's Quik Detailer (Not in the picture above)
*No.2 for light color car, any clay will do, so didn't use Meguair's Clay.
On 21.07.2011
My car was very dirty and i have to rinse it with water, after a couple of minutes of rinsing, i saw wonderful water beading! Woohoo, nice 1, 5days after my 1st detailing work and under very bad weather condition (Sunlight+dust+pollen+soil).
After that i dry the car and at the same time apply Meguair's Quik Detailer, and guest what? My car shine like just after my detailing works! Just have some deposit have to be clay on the next weekend.
Conclusion:
Very satisfy for the result and it is cost benefit! Going to do another detailing work this weekend.
Next detailing work project:
1. Clean the watermark/waterspot at my car's roof - Found it last detailing work but unable to remove it, should be etched into the paint before i take the car. Going to buy Soft99 New Meta Clean Liquid to try to remove the watermark/waterspot.

2. Beside, will buy Soft99 Fusso Coat Mirror Shine for Light Color (White) to try a layer of coating and see the effect!